Experience a Memorable Stay at the City Fringe at Momentus Hotel Alexandra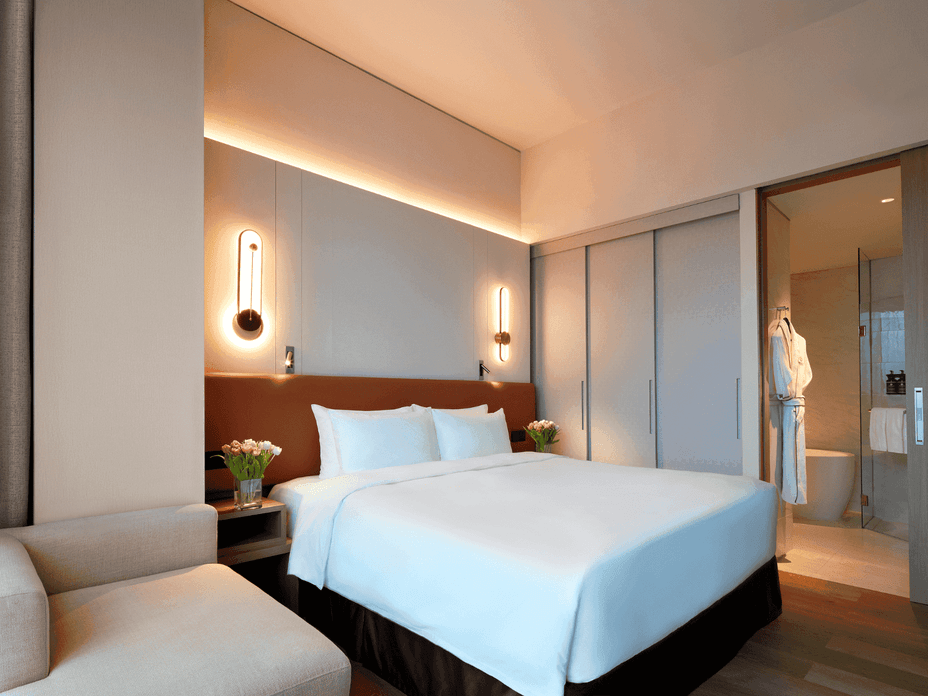 Located on the city fringe, a stone's throw from the hustle and bustle of the city centre, you'll find Momentus Hotel Alexandra – an urban oasis in the Central Area that invites you to experience tranquil elegance.

Nestled in the heritage enclave of Queenstown, this hidden gem offers a unique escape for those seeking a weekend respite from the frenetic pace of urban life, while still desiring access to the city's vibrant offerings. Whether you're planning to explore Singapore or looking for a casual, laidback retreat, discover the comfort and serenity that define a stay at Momentus Hotel Alexandra.
Unwind in Style with Elegant Suites
At Momentus Hotel Alexandra, an inviting stay awaits with our carefully curated selection of rooms and suites. Catering to every guest's needs, our spaces are designed with meticulous attention to detail. From our comfortable Premier Room to our spacious Executive Suite, experience the perfect retreat to unwind.
Revel in the abundance of natural light that streams through floor-to-ceiling windows, offering splendid city views. After a day of exploration, sink into our cosy bedding for a restful night's sleep, or pamper yourself with a relaxing soak in the bathtub. Whether you're here for leisure or business, our hotel room suites offer an experiential stay that combines elegance and relaxation effortlessly.
Rejuvenate Your Body and Soul
After a day of exploring the city or attending meetings, indulge in a well-deserved pampering session with our wellness facilities. Reenergise yourself in our fully-equipped gymnasium, and indulge in an invigorating workout amidst spectacular views of the cityscape. For our most discerning guests, the exclusive Momentum Club awaits on our highest floor, where city skyline vistas blend seamlessly with an atmosphere of unparalleled privacy. Here, enjoy an array of complimentary privileges, including personalised check-in and check-out, delightful breakfast buffets, all-day refreshments, and evening cocktails.
But the star attraction of our hotel's wellness amenities is the breathtaking infinity pool. This stunning 25-metre pool offers panoramic views that extend beyond its edge, creating an idyllic setting to take a rejuvenating dip, lounge by the poolside and soak up the warmth of the sun.
Savour Gourmet Delights
For culinary enthusiasts, Momentus Hotel Alexandra offers a delightful array of dining options. Dive into a world of modern European delights at the Verandah Rooftop Rotisserie, where each flavour captivates. Whether you prefer an indoor setting with chic contemporary aesthetics, or an outdoor rooftop dining experience amidst lush greenery, every bite promises a treat. From succulent meats and signature roasts to wood-fired sourdough pizzas, indulge in our culinary masterpieces, each dish meticulously crafted to provide a memorable dining experience.
For a dining experience with a view, the Verandah Pool Bar & Grill is the perfect choice. Whether you're relishing a sumptuous meal of freshly grilled seafood and bar bites, or enjoying refreshing cocktails at our rooftop sky bar, the ambience by the poolside elevates every moment, creating an unforgettable dining experience against the backdrop of Singapore's skyline.
Explore Nearby Gems from Our Oasis
While our tranquil haven provides a welcome respite from the city's bustle, it's also a gateway to several exciting local dining and tourist hotspots, making your stay both relaxing and engaging. Take advantage of the hotel's daily looped shuttle service that conveniently connects guests to key business and transport hubs like Mapletree Business City and Harbourfront MRT interchange.

1. Sentosa
Conveniently situated near Sentosa, Singapore's famed island retreat, you can explore sun-kissed beaches, thrilling theme park adventures, or simply enjoy a day of leisure just moments away from our hotel.
2. Vivocity
For those who love shopping and entertainment, Vivocity is a mere 10-minute drive away. Dive into a world of retail therapy and diverse culinary experiences, all within easy reach of our location.
3. Labrador Park
Nestled close by, Labrador Park beckons with its rich history and serene coastal views. Ideal for leisurely strolls and picnics, this seafront park presents a tapestry of wartime relics and lush greenery, offering a peaceful retreat amidst the urban sprawl.
4. Gillman Barracks
For art and history enthusiasts, Gillman Barracks is a must-visit destination. This former military camp has been transformed into an arts hub, housing international galleries and offering an enriching cultural experience.
5. Hort Park
Within reach of our hotel is Hort Park, a one-stop gardening hub that connects people with gardening and flora through educational and recreational activities. This attraction is ideal for nature lovers looking to delve into Singapore's rich biodiversity.
Embark on a Serene Retreat Today
Escape the ordinary and experience a memorable stay at Momentus Hotel Alexandra, where elegance meets comfort. Whether you're unwinding in our classy suites, relaxing in our spa and infinity pool, savouring gourmet delights, or exploring nearby attractions, your experience will be nothing short of unforgettable, leaving you with cherished memories to treasure.
Book your stay with us now and immerse in a world of comfort and relaxation. Your oasis of serenity in the Central of Singapore awaits.